essiac tea faq
find answers to our frequently asked questions here
We compiled these Essiac Tea FAQ for your convenience. We get it - this product can seem confusing when you're new to it!
CLICK ON A SECTION TO JUMP-TO-IT, OR KEEP SCROLLING DOWN TO SEE ALL OUR ESSIAC TEA FAQ!

Our Essiac Formula
Essiac Tea in General
Our Powdered Herbs
Our Shipping Options and Costs, and International Orders
Packaging, Preparation and Storage of Essiac Tea
Discount-Essiac-Tea.com
Your Essiac Tea Order
regarding our essiac formula
Do you use the whole sheep sorrel plant, including the roots, in your formula?
Yes, of course! That is the only way the tea will be most effective. The sheep sorrel we use is 20% root - which means that it contains the whole root.

Where are you located?
We're based out of Haverhill, Massachusetts, USA. Haverhill is approximately a half-hour north of Boston.

How long have you been in the herbal tea business?
We have been making and distributing essiac since 1986. This website was launched in July 2005 as another means to distribute our essiac.

How many customers have used your product?
The eight herb essiac tea formula we carry has been taken by hundreds of thousands of people all over the world. 

Do you guarantee your product?
Yes! we have both a 110% Essiac Tea Price-Match Guarantee AND a 6-Month 100% Money-Back Guarantee. We don't want you to simply be satisfied - we want you to be thrilled with our product and our service. Please come to us with any issues you may have - we sincerely want to make it right every time. Please note that, for some people, the essiac helps very quickly. For others, it can take up to six months to notice improvement. Stick with it! Read more about how we have the best essiac money can buy.

Do you offer customer support?
Yes. You may contact us using our contact form. You may also call us at 1-978-504-9517. You can also call Toll-Free at 1-866-ESSIAC1 (1-866-377-4221). We return phone calls and email 7 days per week. 

How can I order?
We recommend that you place your order via our 100% safe and secure online shopping. Click here for the product list that leads you to the shopping cart: Essiac Product List. 

If you prefer to place a telephone order using a credit card, you can call us anytime at 1-978-504-9517, or Toll-Free at 1-866-ESSIAC1 (1-866-377-4221). If we are currently assisting another customer, please leave a message with your name, phone number and a good time to call back and we will return your call promptly. 
If you prefer to send in a mail order (which you can pay for via credit card, check or money order) you can send in a check or money order with a note on the product you want and the name and address we should send it to. Domestic orders 10 lb. or under ship free via 2-3 Day Priority Mail. If you are ordering to be shipped to another country outside of the U.S. or you are ordering more than 10 lb. please contact us about shipping fees. Be sure to include your full name and shipping address as well as the weight of your order.
We can also create paypal invoices and send them directly to you if you have trouble with the shopping cart or for any other reason.

The price at the nutrition shop for Flor-Essence tea or essiac seems outrageous. You seem to have the exact same ingredients, but does your mixture have the same ratios, and are the herbs of the highest quality?
Our essiac has the same eight herbs as these more expensive products. However, we will never know the exact formula that another company is using; unless it's four herb essiac, the formulas are kept a company secret. However, we DO know that our formula is the most effective ever found in clinical trials. It IS "the real thing." It is the result of the research Rene Caisse and Dr. Charles Brusch conducted over an eight-year period. Watch a documentary on Rene's life and work here. Click on these links for more info: How to Make Sure You Have Authentic Essiac as well as Eight Herb Essiac. Learn more about how our tea compares to Flor Essence.
Do you have testimonials?
Yes! Here are some that were sent in by our customers: Essiac tea testimonials. 

Why does your essiac tea cost more than what I see on amazon and other places online?
Be very careful when you compare essiac brand costs. Most of the brands you'll see don't have the legitimate formula, so even if those are cheaper, they are not worth the money. Even if you do find a legitimate brand, they all sell essiac in smaller quantites than we do. You have to compare cost of oz. per oz. to know which is actually the better deal. Most companies sell a week or two's worth of essiac at a time, while we sell months or even a year plus at a time depending on what your order. Our tea costs less than $1 per day to use. It's super inexpensive! See the real cost differences between our essiac and what you'll find on amazon.
Could I get the pre-bottled essiac to save time?
This isn't a financially sustainable choice for many people. It costs about $7 per day to use, whereas ours costs less than $1 per day! But even if you can afford it, it only takes 10 minutes once every two weeks to prepae your essiac tea. And the benefit of preparing it yourself is that there are no preservatives, and you can leave the powdered herbs in the tea and consume them, just as Rene Caisse recommended. Learn more about powdered essiac versus pre-bottled.

If your essiac is the best, how can you sell it so inexpensively?
The average herb retailer is making a HUGE profit when they sell essiac tea at high prices. The herbs for essiac tea simply do not cost that much! Of course, health food stores have to pay for their overhead costs including the costs of their retail store and their staff - but they still turn a huge profit. 

At discount-essiac-tea.com, we make just a small profit per order, but our goal is to generate more orders than all of the other companies because of our great customer service and low prices. Also, because we a huge volume of essiac, we have been able to negotiate huge volume discounts from the herb companies who supply us. We also avoid the overhead costs of having retail stores and a large staff. We've kept things simple by only offering one product that we know works - and that we know sells! And essiac can have such a positive effect on all the body systems that almost everyone, no matter what their health issue is, can benefit from using essiac. 

How does your essiac tea taste?
Real essiac tastes slightly bitter. If it's not slightly bitter, it's not the right formula. Don't worry - you can add unsweetened fruit or vegetable juice or stevia if the taste bothers you. Most folks adapt to it pretty quickly and it's a non-issue. If you have essiac that isn't slightly bitter, it's not real essiac! Click here for a deeper discussion on the taste of our essiac.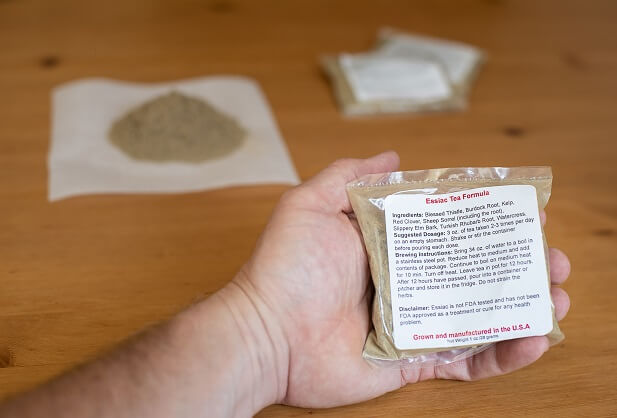 regarding essiac tea in general
How do I pronounce that word?
Go here to learn the pronounciation! 
What IS essiac, exactly? 
It's a blend of eight herbs that helps support the body's immune system as well as provide a full body detox. See our Essiac 101 article to learn the essentials about this herbal product. If you want a quick explanation of what essiac tea is for, check out this article.
How did the use of essiac tea start?
Essiac is a Native American herbal formula. Get the full scoop here!
What can essiac do for me?
It appears that essiac tea's primary actions are to remove heavy metals, detoxify the body, restore energy levels, and rebuild the immune system. All of these actions help restore the body to a level in which it is able to better defeat the illness using its own resources.
In other words, essiac rebuilds the immune system and improves the illness-defeating ability of the body so that the body can have the ability (just as nature intended) to rid itself of illness and disease. For a list of possible benefits from essiac tea, please visit: Benefits you may receive from Essiac Tea. To see which health problems may make you a candidate to try essiac, click here: Essiac tea and health problems. 
Will essiac cure cancer or other diseases?
Essiac is not a drug and therefore not FDA approved as a treatment. Essiac is not a cancer cure or a cure for any other disease. Due to the beneficial properties of essiac tea listed above, many people who take essiac report developing a stronger immune system and increased health and well-being. A healthy body is a body that is better equipped to fight disease and infection using it's own resources, just as nature intended. 
Can I take essiac along with radiation or chemotherapy? 
Yes, in fact essiac tends to improve the quality of life for a person on chemo and/or radiation. However, because chemo and/or radiation can destroy the chemicals and compounds that allow essiac tea to do its job, we recommend that you take the aggressive PLUS dose of 6 oz. of tea three times per day, rather than the regular aggressive dose/improvement of health dose of 3 oz. of tea three times per day while you are receiving these treatments. Learn more about taking essiac along with chemo.
From our experience and experimentation, we've found that people on chemotherapy and radiation tend to have best results taking 6 oz. three times per day. However, some have remained on 3 oz. three times per day and also had good results. Personally, if we had a loved one taking chemo and radiation, we would recommend 6 oz. three times per day to be on the safe side.
Can children use essiac?
Absolutely! Go here to read more about giving essiac to children. Go here to read about giving essiac to babies.

Can I take essiac with other alternative or traditional treatments?
Yes, and in many cases the treatments will complement each other, compounding the positive health effects. To our knowledge essiac tea will not interfere in an adverse or negative way with any other conventional or alternative treatment. You are advised to consult with your practitioner for individual concerns and issues. If you are concerned, ease into your essiac tea usage gradually, taking 1/2 or 1/3 of the full dose at first to check how your body responds. We are not medical professionals; we can only share the information that has been reported back to usm over the years, or which there is a lot!
If I am juicing, how should I approach taking essiac?
Great question! The short answer is that any pure natural fruit/vegetable juice can be considered "empty stomach" for the purposes of essiac. Essiac and juicing make a great pair! Learn more about how they can work together.

How does essiac affect pH?
Essiac tea has a beneficial affect on regulating the body's pH according to Rene Caisse's research. Read more about herbal tea and pH.
When can I expect to notice a benefit from taking essiac?
This is highly individualized. Some people notice an increased sense of health, well-being and energy just days after starting essiac tea. Others find that it takes weeks or even months to notice a tangible benefit. Most people start noticing an improvement in their general health and well-being after couple of weeks taking essiac tea regularly. Follow our Essiac Tea Dosage Recommendations for at least 6 months if you are currently in poor health. Please do not decide that the essiac tea is not working before you've reached the six month mark. Sometimes the changes take a little while to show up.

How long should I continue taking essiac tea?
That is ultimately your decision. However, we recommend that you take the aggressive dose/improvement of health dose, which is 3 oz. three times per day, until your test results return to normal and your health is completely restored. After that point, we recommend that you continue to take the maintenance dose of 3 oz. twice per day. If your health problems should ever return, we recommend immediately increasing your dosage to the aggressive treatment dose/improvement of health dose until your test results return to normal. It is fine to continue on aggressive dose for life according to our experience. For more info on how long to continue to take essiac click here.
I was told to stay away from red clover, but I want to take essiac. What should I do?
You don't have to worry about the red clover as a part of this formula. It's a very small percentage of the formula, and the essiac with red clover taken out will not be as effective. The combination of the eight herbs removes any problematic effects red clover alone might cause. We have dealt with thousands of customers with this very question, and so far not one adverse reaction or issue has been reported. For more info on essiac and red clover click here.

I heard (insert any Essiac myth)...
Learn about common essiac myths and misconceptions here:  Essiac Myths.
If I am healthy, can essiac tea hurt me? Can I take the aggressive dose/improvement of health dose even if I am generally healthy?
Essiac tea will not hurt you. On the contrary, it can act as a preventive aid against developing health problems in the future. We know many people who take the aggressive dose/improvement of health dose of 3 oz. three times per day for general health and daily detoxification. While it may not be necessary to take the aggressive dose/improvement of health dose as a healthy person, essiac can't hurt you in the amounts that the herbs are present in the tea. Many of the ingredients are commonly found in soups and salads. Personally, the staff at discount-essiac-tea.com are all healthy (thank goodness) and we still take the aggressive dose/improvement of health dose to maintain our good health. However, our official maintenance suggestion is 3 oz. twice per day.
Can I take essiac while pregnant or breastfeeding?
Yes.
What is essiac tea typically used for?
The most common reasons for taking essiac tea are: tumors, diabetes, digestive problems, liver problems, kidney problems, high blood pressure, high cholesterol, chronic pain, chronic fatigue, low energy, and HIV. For a list of benefits of essiac tea, click here. 

Is there any way essiac tea can hurt me?
There isn't anything in essiac that can hurt a person. But, always consult with your practitioner. The only side effect we are aware of is that you might experience mild stomach/intestinal irritation if you start immediately on the aggressive dose/improvement of health dose of 3 oz. three times per day. This may include nausea and/or loose stools. This is actually a good thing: it's a sign of detoxification and will not harm your body as long as you're able to tolerate the mild discomfort. If you are bothered by these symptoms, start with 1/2 to 1/3 of the recommended dose and ease your way into taking the full dose.
Can I take essiac if I am on medication? You can take essiac along with your medications. Read more about it here: Medication and Essiac Tea.

Is Essiac Blood Thinning? Essiac doesn't technically thin the blood like warfarin or coumadin do. Because of that, you can take essiac if you are on those medications. What essiac does is it helps remove excess fats and cholesterol from the blood.
If I'm having surgery soon, do I need to stop essiac? Always follow your surgeon's recommendations about what you can and can't take before surgery. In general, it is wise to avoid taking essiac tea for two days prior to your surgery to be sure that there will be no problem with having your procedure. In most cases, you can resume essiac tea as soon as you are able to eat or drink normally again after surgery.
Which herbs are found in eight herb essiac?
The eight herbs that make up essiac are: blessed thistle, burdock root, kelp, red clover, sheep sorrel, slippery elm bark, turkey rhubarb root, and watercress. The herbs, which all have benefits of their own, seem to have a synergistic (additive) effect when taken together in the specific essiac tea ratio. To learn more about the properties of these herbs, please visit: Essiac Tea Ingredients. 

Why would I choose eight herb essiac instead of four herb essiac?
Four herb essiac was developed with that intent that one of the herbs be injected. Since you will be taking essiac as a tea, four herb essiac is not as effective. Eight herb essiac was widely researched and studied and Dr. Brusch and Rene Caisse found it was the best performing formula. This information is documented in the book The Essiac Report by Richard Thomas. You can also watch Rene Caisse's documentary to learn more about her life and her development of the essiac formula we have today.
We have thousands of satisfied customers who are healthy and continue to take eight herb essiac at maintenance dose after their test results have returned to normal. They will attest to the efficacy of eight herb essiac and to the fact that they believe it is superior to four herb blends. While four herb essiac is targeted for liver detoxification, eight herb essiac results in both liver and colon detoxification for a more complete detox regimen. To read more about the merits of eight herb essiac and the history behind it, please visit: Eight Herb Essiac. 

How does eight herb essiac taste?
Eight herb essiac has a slightly bitter taste. The watercress is the main culprit for this. Some essiac blends don't include watercress, but that herb is crucial to the formula. Most people get accustomed to the taste after a couple of weeks of taking essiac tea. It's normal for each batch to look and taste a bit different since this is a natural product and we do not overprocess the herbs beyond what is necessary. If you have essiac that isn't slightly bitter, it's not real essiac!
Since you will generally only be taking 3 oz. at a time, it should not be a problem to drink that small amount even if you don't enjoy the taste. Essiac tea isn't meant to be sipped and savored for pleasure - it's an herbal medicine. It doesn't taste horrible but most don't find it delicious either. We recommend keeping a glass of orange juice nearby and swishing your mouth out after taking essiac if the taste bothers you. This practice will counteract the bitter taste making it more pleasant to take the tea. You may also add stevia to your essiac tea. Click here for more info. on stevia or to order Organic Stevia. The good news is that each time you take the essiac it gets easier. Just about everyone, after a week or so, can take the tea like it's no big deal, even if that notion seems impossible after the first dose. If you need some more essiac taking tips, click here.

Why is there "sludge" at the bottom of my container? Can I throw it out?
The herbs are important to consume as part of each dose. Therefore, please do not strain and throw out the particles at the bottom (some describe it as "mud"). It's important to get some of these particles into each and every dose. Learn more about the value of the essiac sludge here. The most effective way to do this for most people is to use a large wooden spoon to stir the pitcher before pouring each dose. You can leave the lid off your container to make this more convenient. Stirring tends to work better than shaking, especially when the pitcher is full. For more info. on consuming the herbs and why it's important, click here.

Should I take the tea hot or cold? Do I need to take it with meals or on an empty stomach?
It is recommended that you drink essiac tea cold just as Rene Caisse recommended. Essiac should be taken on an empty stomach. Take it at least one hour before eating a meal, and at least two hours after your last meal or snack. If you cannot comply with this once in awhile, taking essiac with food is better than not taking it at all, but try your best to follow the schedule. Many folks bring a dose with them in a thermos with a few ice cubes for times when they are out and about. If you're concerned about being able to eat enough throughout the day, check out this article for guidance on how to eat well and still take essiac on an empty stomach.
Can you use essiac tea topically as a poultice?
Yes you can. However, we recommend using it orally in addition to topically. Read more about using essiac tea as a poultice.
Can I take essiac in capsule form?
Unfortunately much of the effectiveness is lost in capsule form. You can read more about that here.
Can I use essiac tea bags?
We don't recommend tea bags because you won't end up consuming the powdered herbs when you use tea bags. You also will not receive the full 12 hour steeping process. Get more info. on the drawbacks of tea bags.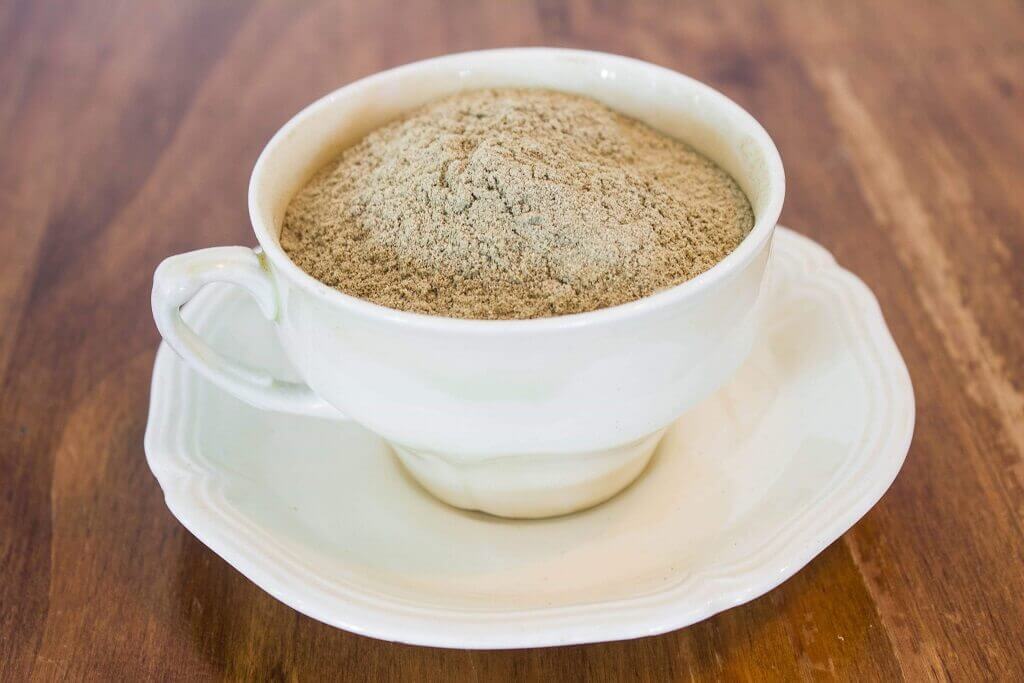 Rene Caisse's research showed that essiac tends to work better orally than topically.
Regarding Our powdered herbs
Why do you use powdered herbs? 
Powdered herbs are more expensive for us to use than whole herbs, but the extra cost we bear is well worth it. This is because powdered herbs make for a more potent brew. With powdered (pulverized) herbs, there is more surface area on the herbs for the extracts to seep into the tea. Anything in powdered form mixes easier and more thoroughly (Kool-Aid type mixes come as a powder for a reason!)
Furthermore, powdered herbs are pulverized to a fine enough consistency that they can remain in the tea and be consumed along with the tea. It is preferred that you consume the herb particles themselves in addition to the tea, as they contain beneficial compounds. This is a similar argument to those who tell you to eat the whole fruit versus drinking the juice or taking a vitamin. By consuming the herbs along with the tea, you won't miss out on any of the important chemical compounds that are part of whole food. 

Are your herbs organic?
Yes, all of our herbs are certified organic. 

Are your herbs irradiated? Do they contain chemicals or pesticides?
All of our herbs are non-irradiated, chemical-free and pesticide-free. 

Are your herbs fresh?
Yes! Our herbs are incredibly fresh because we sell thousands of pounds of essiac herbs a month. We turn over the majority of our herb inventory every 1-2 weeks. Many customers have commented on how fresh the herbs look and smell. If you purchase essiac from an outlet that sells more than one herbal formula, you're more likely to receive stale herbs. We deal with only essiac at discount-essiac-tea.com. For more on herb quality click here.

How long do the herbs last once purchased? They last 2 years from date of purchase. Please store them in a relatively cool, dark place out of direct sunlight, such as in a cupboard. If the room is comfortable enough to live in, it's OK for the herbs. It's just best to keep them out of direct sunlight as that will take away from the potency over time.
Where do your herbs come from?
All of our herbs are currently domestic herbs grown in the U.S. because this allows us to deliver the most consistent, effective and affordable. Currently 7 of our herbs are coming from Starwest Botanicals in California. Starwest has an exemplary testing procedure for their herbs that we can trust. One of the herbs (sheep sorrel) comes from a private grower in Arkansas so that we are able to source the whole herb including the roots. For more information, click here: where our herbs come from, and the quality of our herbs. 

I've read that you shouldn't purchase the essiac herbs already mixed, but that it is better to purchase the herbs individually and blend them yourself. Why?
The main reason this is suggested is because there is nothing stopping a company from giving you a cheaper formula that isn't really essiac in order to cut costs. An unscrupulous company might include more of one herb that happens to be less expensive and less of an herb that is more expensive.
However, since the eight herb formula is not public information, you cannot simply decide to make your own essiac blend yourself. Even if you could, another problem is that herbs will cost you much more when you purchase them in small quantities individually rather than in huge bulk orders like we do.
It is a matter of trust and the honor system when you order pre-blended herbs, but we wish to assure you that we are a highly ethical company and would never compromise your health or our business by trying to cut costs. Let's face it - if we were money-hungry people that wished to take advantage of you, we would certainly charge more than we do! Plus, we rely on repeat business to be successful. If our essiac didn't work, no one would re-order again and we would lose out. Plus, we cover all our herbs by our 6-Month 100% Money-Back Guarantee - it would be pretty silly of us to give you an inferior product. We also give tons of essiac away for free to those in need, a way to further show our intentions.
regarding free shipping, shipping options and international orders
Which shipping services do you use?
We use USPS for parcels 10 lb. and under, which is short for the United States Postal Service (the mail). We send all domestic parcels Priority Mail. Domestic orders over 10 lb. can be shipped via USPS or UPS. We send International Orders via the USPS or UPS method you pay for either over the phone or on the secure shopping cart. For more information about how we ship domestically, go here. For more information on international shipments, go here.
How much does shipping cost?
Domestic orders 10 lb. or under ship Free via 2-3 Day Priority Mail. If you are ordering to be shipped to another country outside of the U.S. or you are ordering more than 10 lb. please contact us about shipping fees, or you can choose one of our products on our shopping cart and see the prices for yourself. If you'd like us to look up prices for you be sure to include your full name and shipping address as well as the weight of your order so that we can provide an accurate quote.
Why does international shipping cost what it does?
USPS and UPS offer the best rates for the sizes of orders we sent most often. Fed Ex costs on average 3 times as much. These heavy packages of herbs are simply more expensive to ship than it would be to ship a lighter package. If you decide to purchase essiac at a retail location near you for pick-up to avoid international shipping fees, please be careful - it is highly unlikely that you'll save money. Retail outlets typically charge at least four times as much as we do for essiac - in many cases they charge much more.
We offer the absolute best deal of individual orders of essiac you will find. We back up this statement with our 110% Price-Match Guarantee. 

Do you ship internationally? What does it cost?
Yes, we ship to many countries internationally. To find out how much it costs you can begin to select an order at the shopping cart (click here to select an order which will bring you to the shopping cart), and you be able to enter your address for a shipping quote. If you don't wish to place your order, you'll be able to leave the screen without ordering.
In addition, you can also always contact us and ask how much it is for your particular country. Just be sure to indicate the essiac order size you're considering, as well as your full name and address, since cost to ship is dependent on weight and location. If you have a preference for USPS versus UPS just let us know.

Will the essiac be allowed into my country? What if my package is seized by customs?
Before ordering, it is wise to confirm with you country's regulating bodies that they will allow herbal tea into the country (the vast majority do). We do not write all the ingredients of essiac on the customs slip unless requested - we simply write "herbal tea."
We are not responsible for any orders that  never arrive to you because they are seized by Customs or other government organizations. Although we rarely have these problems, there is always a risk. We will work with you by trying a second time if it doesn't make it to you the first time, possibly by changing the shipping method and/or documentation. We include a special note that allows the product to be brought into Australia with Australian orders due to the fact that Australia requires it for this herbal tea. Customers are solely responsible for any fees or duties to receive our products into the destination country with the exception of Canadian customers (we take care of Canadian customs and duties for the customer as we are able to do it at a guaranteed fixed rate).
How soon can I expect my shipment to arrive?
We ship on Tuesdays and Fridays. All orders received by 12pm EST on Tuesday and Friday make the shipping cutoff for that day. Orders coming in after those times are shipped out on the next shipping date.
Note - If you have an urgent need for you order to be shipped on another day of the week, please call your order in to 1-978-504-9517 and let us know. We will do our best to accommodate you.
We ship US orders via Priority Mail and after we've shipped it takes 2-3 business days on average. For international orders, speed varies widely but can be estimated on www.usps.com using the ship from zip code "01830." In some cases it can take weeks for the herbs to clear customs once the herbs arrive in your country. Unfortunately that is out of our control. In general international orders can take 4-6 weeks to arrive to you if they get held up at customs and there is nothing we can do to expedite it. That is not the norm, but it does happen. Please plan accordingly. It is normal for tracking to show when the herbs leave the US, and not update again until the herbs arrive in your country. There will not be a daily update in most cases, so don't panic if you fail to see an update for awhile.

Do you have distributors such as other websites or retail stores with your tea who are closer to me?
We don't have many, and we don't have many set up in other countries either. You will never find a better deal than you will find right here, especially since we offer free priority shipping!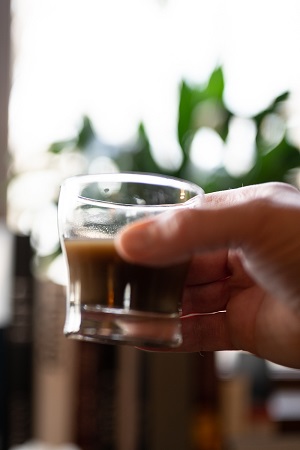 Ordering essiac tea is the most affordable way to buy genuine essiac.
regarding packaging, preparation and storage of essiac tea
What type of packaging will my essiac arrive in?
Your herbs will arrive in the specified number of 1 oz., 4 oz. or 1 lb. sealed and labeled packets. They are in food grade polybags. These units are stand-alone packages complete with brewing and dosage instructions included (They DO NOT have our website or our contact info. on the label in the event that you wish to resell them. The other side of the bag is blank and you could include your business information on that side with your own label if you like).
Do you have photos of what these products look like?
Yes! Click here: Essiac Product List. 

How do I prepare my essiac tea?
For adult use please visit: How To Brew Essiac. For brewing for most pets or small children visit: Brewing essiac in small batches.
How come you don't recommend that we brew the tea twice like some companies do?
Most likely, companies that ask you to bring the tea to a boil twice are using regular (not powdered) herbs. It's harder to get the medicinal extract out of large herb particles, hence the need to boiling twice. Dr. Charles Brusch and Rene Caisse have studies the brewing methods and never found an additional benefit to brewing powdered herbs twice. 
How should I store my essiac herbs?
Store the herbs in the packaging they arrived in. Keep them in a relatively cool, dark place (not in the refrigerator, though - that's too cold). As long as the room is a temperature that humans can live, the essiac will be fine. It's just best to keep it out of direct sunlight especially for prolonged periods of time. Unopened packets of herbs stay fresh for up to two years from date of purchase.

How should I store my essiac tea once I've brewed it?
Your brewed essiac tea must be refrigerated, since there are no additives or preservatives in this product. Avoid storing brewed tea for longer than two weeks, because the tea may spoil. Store your tea in any pitcher you'd normally use for iced tea or lemonade. Dark bottles are not necessary, because your refrigerator is dark inside anyway (hence, negligible opportunity for the tea to experience light damage). Clean all containers thoroughly with hot water before using them to store your tea.

How much essiac tea should I take? 
Please visit: Essiac Tea Dosage Recommendations. 

How should I take essiac tea for detoxification?
Detoxification typically is something that is done for a fixed period of time. Click here for more information on essiac for detoxification purposes. 
regarding your essiac tea order
When can I expect to receive my order?

If you order with a credit card online or over the phone, we process and ship your order by Tuesday or Friday, whichever comes first. Cutoff for orders is 12pm on Tuesday and Friday. If you require faster processing, please call in your order at 1-978-504-9517 and it can be arranged. Please place repeat orders as soon as you're using your last packet of herbs so that you do not run out of essiac. 

Do you provide tracking numbers?
We currently use USPS, since they have by far the lowest cost and fastest service for the typical size essiac order. USPS does not provide tremendously detailed tracking information minute-by-minute. However, the tracking available will be emailed to you as long as you provide an email address.
If your order is taking longer than 3 days from the Tuesday or Friday ship day to arrive and you do not see any updates on the tracking system, feel free to contact us. However, note that international orders will not update while the essiac is being shipped over the ocean. The tracking will update again once the tea is on land in your country.

Do you include instructions with the orders?
Yes, we include dosing instructions, brewing instructions, and contact information should you need further product support. The instructions are in ounces. If you prefer instructions in grams and mL, please specify that by using the comments section of the shopping cart when you order. You can also click here: Metric Instructions.

What supplies do I need?
We suggest using a large stainless steel pot, a wooden spoon and a pitcher. For examples of the necessary supplies click here.

Do you offer live customer support for ordering?
Yes. You can call 1-978-504-9517 anytime. You can also call us Toll-Free at 1-866-ESSIAC1 (1-866-377-4221) You may have to leave a message if we are busy helping another customer. We WILL return calls promptly 24 hours a day, 7 days per week.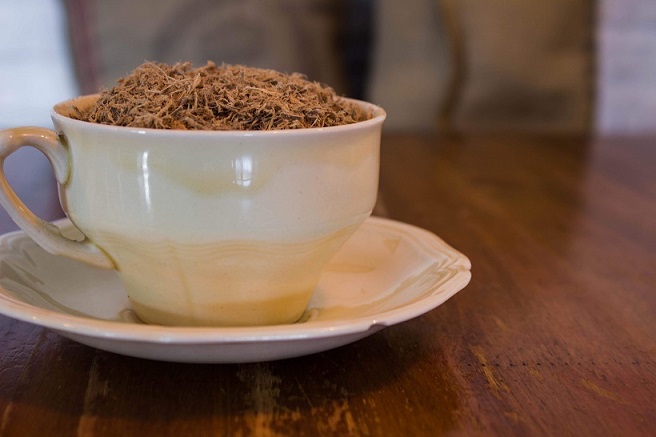 Call us 24/7 - we are always here!
regarding discount-essiac-tea.com
Do you have other products besides essiac?

We do carry another product which pairs up well with essiac. Stevia is a dietary supplement that many add to their essiac tea. Click here for more info. on stevia or to order Organic Stevia. We also carry CBD which many folks find pairs well with essiac.

Do you have a catalog?
Yes! Click here to claim your copy of our brochure: Get your digital essiac brochure instantly, or request a brochure that will come in the mail. 

What is your return policy?
Please visit: Return/Refund Policy.

Why don't you have a retail location?
Our goal at discount-essiac-tea.com is to provide you the highest quality, lowest cost and most effective essiac. We understand that there is a financial burden that comes along with illness and that many of our customers are pursuing multiple treatment options that are usually expensive. The only way we can sell essiac at such a low price is to limit our overhead costs.
Bryan will answer the phone if he is not currently busy with another customer, otherwise he will return all phone calls as soon as possible. We respond to e-mails and Facebook messages within 24 hours - sooner when possible. To e-mail us please use our Contact form. To talk to someone please call us at 1-978-504-9517 or Toll-Free at 1-866-ESSIAC1 (1-866-377-4221). If you are in an urgent rush for a response, calling on the phone is your best bet.
---
Disclaimer: Essiac is not FDA tested and has not been FDA approved as a treatment or cure for any health problem. We do not represent it as such on this site. You must determine whether essiac is a product you should pursue. We have provided accounts and descriptions that represent the opinions of a variety of experts in the alternative treatment world as well as actual users of essiac. This Essiac Tea FAQ is a collection of that information. We believe that our formula is the best that money can buy. However, we do not endorse anything on this site as medical fact.
SIGN UP TO RECEIVE ESSIAC NEWS AND COUPONS

We always respect your privacy by never sharing emails. We only send about 4 issues a year, so no worries about us flooding your inbox!