taking Essiac While on Chemo: a guide
Considering using Essiac While on Chemo? Read on.
If you are considering using essiac while on chemo, no worries - we have many customers doing just that. However, there are a few things you need to know about essiac while undergoing a round of chemo.
Essiac is 100% safe to take alongside chemo treatments.
Not only that - but essiac can help those undergoing chemo treatments. It's no secret that chemo has a bunch of unpleasant side effects. Essiac can help all of these symptoms.
Here are some of the more common side effects caused by chemotherapy

Fatigue
Hair loss
Easy bruising and bleeding
Infection
Anemia (low red blood cell counts)
Nausea and vomiting
Appetite changes
Constipation
Experiencing relief from even some of these symptoms is certainly a cause for celebration!
Taking Essiac While On Chemo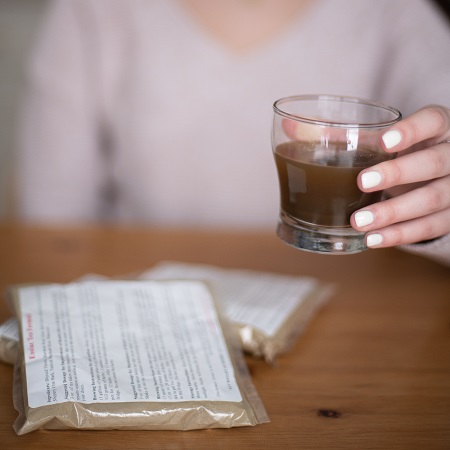 Essiac tea can be taken along with chemo without interfering with that treatment.
So, as we said, essiac can be taken along with chemo. However, we do advise that you take the aggressive PLUS dose of 6 oz. of brewed tea three times per day when undergoing chemo  The reason is because the chemo can take away some of the effectiveness of essiac. Therefore, a higher dose is needed. The other reason for the higher dose is because most people undergoing chemo are dealing with a fairly aggressive cancer. Because essiac should be taken for at least six months , taking the highest dose for that time span is suggested. Click here for more information on the essiac dose for those using essiac while on chemo.
Testimonial of someone using essiac with chemo
"Courtney is doing really well, for the first few days she had a headache and slight diarrhea her urine was deep green. Now a week later she has no headache no diarrhea and her urine is normalish.
Courtney's appetite is better, and after 4 days of taking the essiac there is a big difference in her energy, she said "she feels like she has a spring in her step" also what we have noticed is the brown rings around her eyes are lifting especially underneath, its amazing.
Courtney has her chemo tomorrow and a ct scan on the 12th June, when we get the results of this scan, Courtney is going to tell her oncologist that she want a 2 month break from chemo, in that 2 months she will be taking essiacs only and will be scanned to keep an eye on her cancer."
Karyn and Courtney Terry
"My good friend at work was upset one day I asked him what was wrong, he said that they found two growths on his wife's liver. I told him about the tea and gave him the info . one year later after drinking the tea doctors could not find the growths. Last April my best friend was diagnosed  with  cancer on the back of the cervix. It was inoperable, She decided to go through the radiation and chemo. I also gave her the aggressive dose of the tea. Last week she got her results from the blood work and pepscan. The doctor said that she was cancer free! I still give her the aggressive dose three times a day. It seemed like the tea kept her from losing her hair, and it maintained her energy levels.
I want to thank you so much for making it possible to buy the tea at such a low price . if it wasn't for you guy's I don't think I would be able to afford to buy it from the health food stores since there prices are ridiculous.  THANK YOU AGAIN FROM THE BOTTOM OF MY HEART!"
Edward Leyvas
order our most popular size of essiac tea today
Our essiac takes just 10 minutes to make once every two weeks. It costs less than $1 per day to use.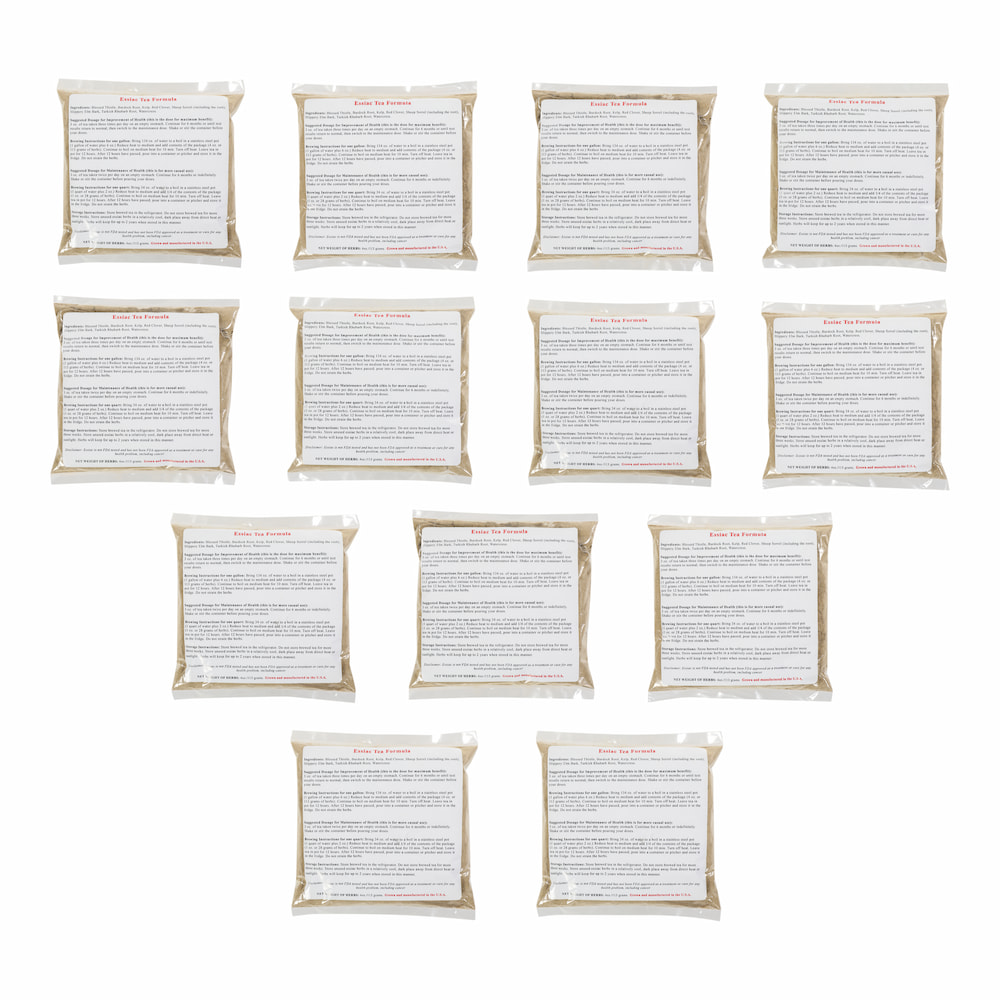 Click here to order our most popular supply of essiac tea for $179.97! It will last six months at the Aggressive/Improvement of Health dose and costs less than $1 per day to use.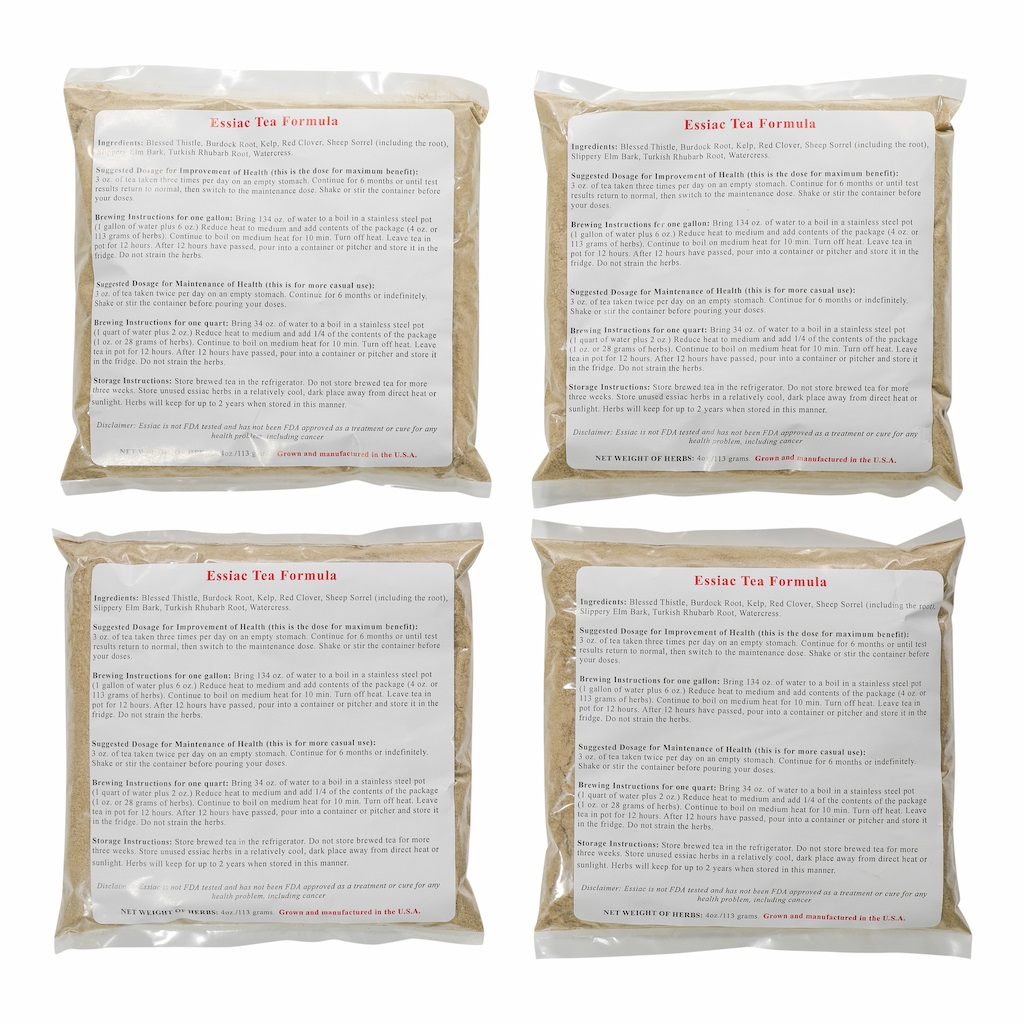 If you'd rather start small, you can order 1 lb. of essiac in four 4-oz. packets for $68.97 by clicking here. This order lasts two months at the Aggressive/Improvement of Health dose, or three months at the Maintenance dose. If you're not sure which dosage you need, click here to learn.
order more at once and save
You can also order in a larger quantity due to using essiac at a faster rate than most to enjoy more volume discounts: Order here.