once you learn the actual benefits of essiac tea, you won't believe that you aren't already taking it
however, the benefits of essiac tea can only be realized if you choose one made with the rene caisse formula
Curious about the benefits of Essiac Tea?
If you have just been diagnosed with a health problem, chances are your head is spinning.
Trust me, I have been there. I know what it's like. I have been diagnosed with Lupus and it ended up leading to life threatening surgeries before I found Essiac.
But back to you. You probably want to find something, anything ASAP you can do to feel like you are back in control once again. Because feeling out of control is the absolute worst part of being sick.
If you have been looking into Essiac Tea, you must have seen conflicting info. about what is the best type and where to get it from. You may have even seen information about the dangers of Essiac Tea.
Take a deep breath.
If you listen to your gut, you will sense which of these websites has your best interests in mind. 
I'm going to lead you through the maze and help you to see the light. At the end of the process, you will be able to make decisions about your buying process with a much clearer head. 
Take a moment to imagine that you have your life back - that this bad episode is behind you. It's totally possible and realistic to think this way. Living freely and being able to do whatever you want with no fear is possible. Getting your life back is realistic. 
I'll explain the 7 reasons why next.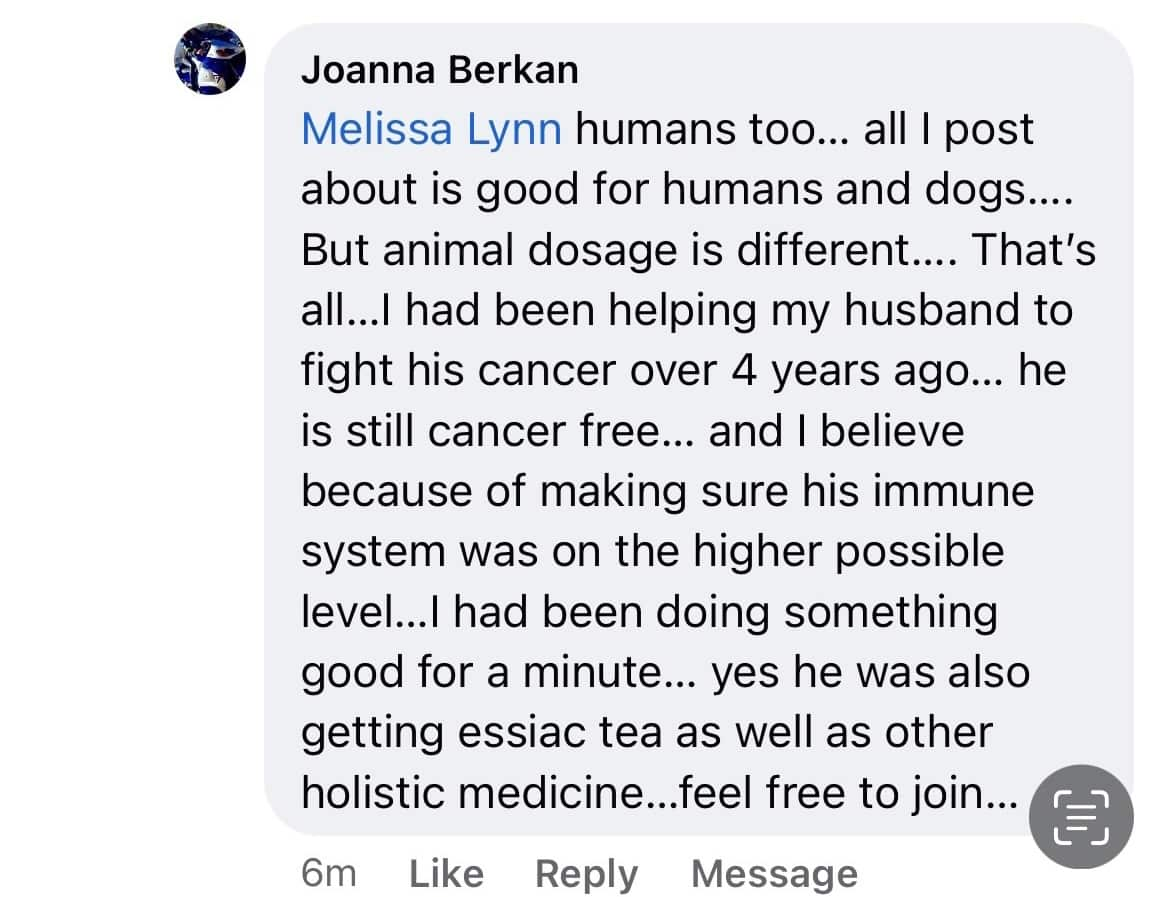 1. if you're looking for advice on the best type of essiac, item number one is that it's a powdered formula
Powdered Essiac is king because of the absorbability of a powdered herb. You'll simply never get the same amount of medicinal content extracted out of whole herbs, even when brewed. And the more medicinal qualities you extract from your Essiac, the faster it is for you to go back to feeling well and healing. In addition, working with powdered herbs makes this tea faster and easier to make! It costs more for us to provide you with powdered herbs, which is why a lot of the companies don't do it. But powdered Essiac is in fact the best Essiac. Make sure you're fighting this thing with the best of the best. That way you'll be sure to get the most benefits of out Essiac Tea possible.
2. have you heard that the four herb formula is outdated? it's true. eight herb essiac was the last one rene caisse used.
While it's natural to want to seek the original of something, realize that the original is not always the best, in spite of many companies marketing and pushing the original like crazy. Imagine if we still used the original computer, or the original car? Things tend to change and improve with time. By using the research proven best formula, you will gain the most benefits out of Essiac Tea that you can.
So that leaves you wondering, is the four herb better than the eight?
Rene Caisse and Dr. Charles Brusch researched Essiac Tea at the Brusch Medical Research Center from the years of 1959 through 1967. They pitted the older four herb formula against a newer eight herb formula and determined that the eight herb formula outperformed the older four herb version. The four additional herbs were designed to enhance the effectiveness of the original formula, and the serving size of the eight herb formula is greater than what the four herb was. This means that you're getting the same four herbs in the same quantity, but with the addition of four more herbs to help the formula work even better. And when the formula works better, your healing is enhanced.

3. MAKE SURE YOU COMBAT IMPOSTERS BY CHOOSING ONLY the FORMULA RESEARCHED BY RENE CAISSE AND DR. CHARLES BRUSCH
Everyone wants to be sure the formula they choose is legit. To help you see our proven lineage, we link documents on our site demonstrating our connection with Rene Caisse and Dr. Charles Brusch. If your goal is getting well, you have no time to waste trying out different formulas and simply guessing at which one is best. Go for formulas with long lists of succcess stories, too. If there are none, it's a huge red flag.
The nice thing is, this one formula is what is used by both people and pets (at different serving sizes, of course). So the entire family (including furry ones) can take it. This is really convenient. Don't fall for marketing tactics asking you to pay more for pet-specific tea. That's baloney! Read more about using Essiac for pets here.
4. essiac isn't much good if it's not affordable. our formula is so inexpensive that almost anyone can order it asap.
Dr. Charles Brusch passed the Essiac formula down to us with the expectation that we would keep it affordable, and we did just that. Similar formulas are selling for up to eight times as much. We know that Essiac Tea is something that needs to be taken for awhile, and because of that it's critical that the cost is sustainable for the average person. We care about our customers and want to keep the price fair. A product this miraculous could easily be turned into a get-rick-quick scheme for us, but we avoid going down that pathway. We know how it feels to have a loved one in need who needed to seek alternative treatments and not having the money to cover it. My husband's twin brother had ALS and it drained all our savings. We never want to see that happen to another family.
It's tricky to try to source an authentic formula yourself closer to home if you're international - they are few and far between. We ship worldwide, and you will find that our product is cheaper than similar products available in your country even when shipping fees are factored in. Keep in mind, you're ordering a lot of tea. Our smallest size lasts two months. So even if shipping is $30 for two months where you live, that is only 50 cents extra a day. To save on shipping order larger parcels, and order replenishment supplies in advance so that you can choose less expensive, slower shipping methods.
if you're worried that essiac is hard to make, worry no more. learn just how to make it right here.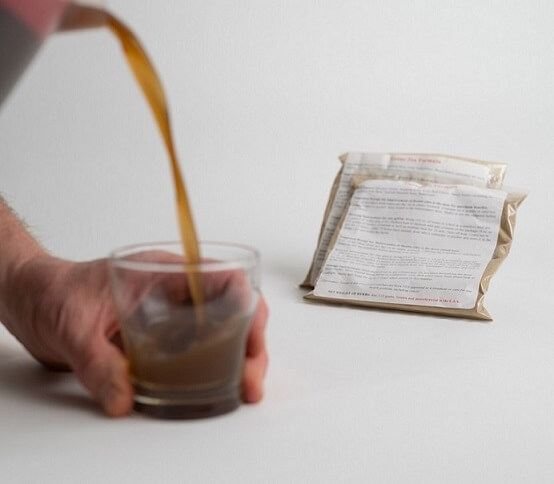 You won't believe how easy making essiac tea is until you see our instructions!
Of course you have questions and concerns about making Essiac Tea.
You're thinking,
"Should I get glass jars?"
"Do I need a special pot?" and
"How much time is this going to take?"
No need to stress - this product is tremendously easy and quick to make and use. See full brewing instructions here. Because we use powdered herbs, just like Rene Caisse did, the tea takes just 10 minutes to cook. Once you have boiled the water and brewed the tea for 10 minutes, you need to let it steep for 12 hours. But that part is hands off - the heat is off and you simply leave it on your stovetop. After the 12 hours have passed, you're going to pour it into a large container of your choosing (we use the same one we would use for iced tea). Most people leave the top off when it's stored in the fridge because that way it's easier to stir the container when it's time to pour a serving of tea. The tea is thick and the herb particles settle, which is why stirring is helpful. You don't have to heat it up - just take it as it. So quick. And that's it! You can the amount of tea that is recommended for your condition, which for most will be 3 oz. three times per day. Easy peasey! If you can make pasta, you can make this :)
The protocol to using Essiac is so easy. Simply take it three times a day if you are looking to improve health, or twice a day if you're looking to maintain health. Take the product on an empty stomach. That means no food 2 hours before Essiac or 1 hour after. Otherwise, continue to live your usual life.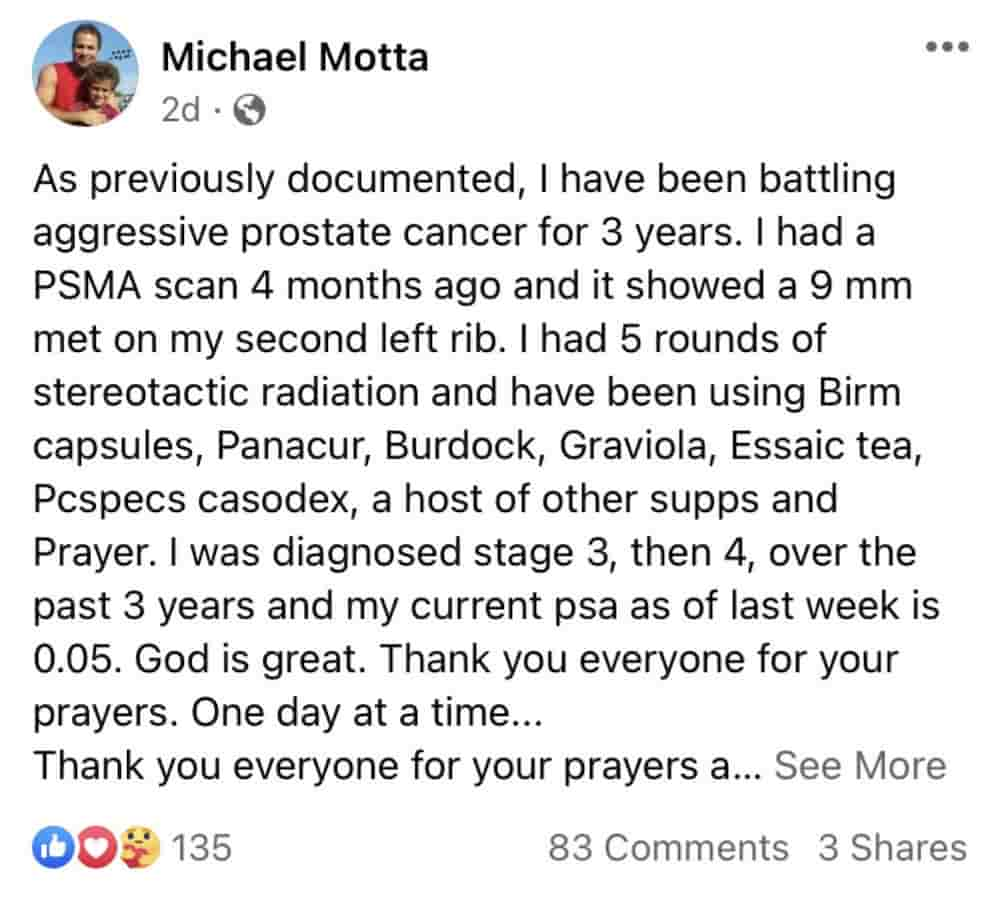 concerned about side effects? rest assured, this product is as gentle as they come.
Have you heard about side effects from other herbal products? The good news is this is an extremely safe product. It's designed to help restore your body to it's natural state, allowing your body to heal itself. There are no contraindications with medications or supplements. The only thing to keep in mind is this product must be taken on an empty stomach for best results. To help with that, many people take it with them during the day in a thermos to take the 3 oz. swig when their stomach is empty. You can toss a few ice cubes in the thermos to keep the tea cold.
Many other herbal teas have side effects that leave people feeling sick. You don't have to worry about that here. It's a very comfortable product to use, and you can live your life normally while you use it. The only thing that is reported by a few customers is they might notice they are going to the bathroom a bit more frequently the first few days of using the product. This should not interfere with your normal activities and is not uncomfortable, but it's something to be aware of.
sure, it doesn't taste like a soda. but there are things you can do to help that.
Now for some real talk. The tea doesn't taste amazing...to most people. It's normal to have a bit of a hard time in the beginning. There are certainly some who email us and say they absolutely love the taste. More often, though, they say that they aren't a fan. The good news is that this is usually short lived. The tea becomes an aquired taste for many. I know that when I first tried it, I could not believe how bitter it tasted. However, within days I could take it so much more easily, and now I don't even bat an eyelash at taking it. In fact, if I miss a few days I find myself starting to crave it!
If you are still in the phase where you aren't a huge fan, the good news is there are effective ways to combat that. You're free to add unsweetened fruit or vegetable juice to the tea. You also can add stevia to it. Adding honey is harder because the product is taken cold, and the honey doesn't easily absorb. But adding honey is allowed as well. Everyone is able to find a way to take the tea when the focus the tips I just provided as well as the benefits of Essiac Tea. Kind of like how we brush our teeth even though it isn't fun, and we eat our vegetables even though there are yummier foods out there, doing something good for your body isn't always 100% pleasure based. However, the benefits of Essiac Tea make it all worth it, and I promise, it gets easier with time.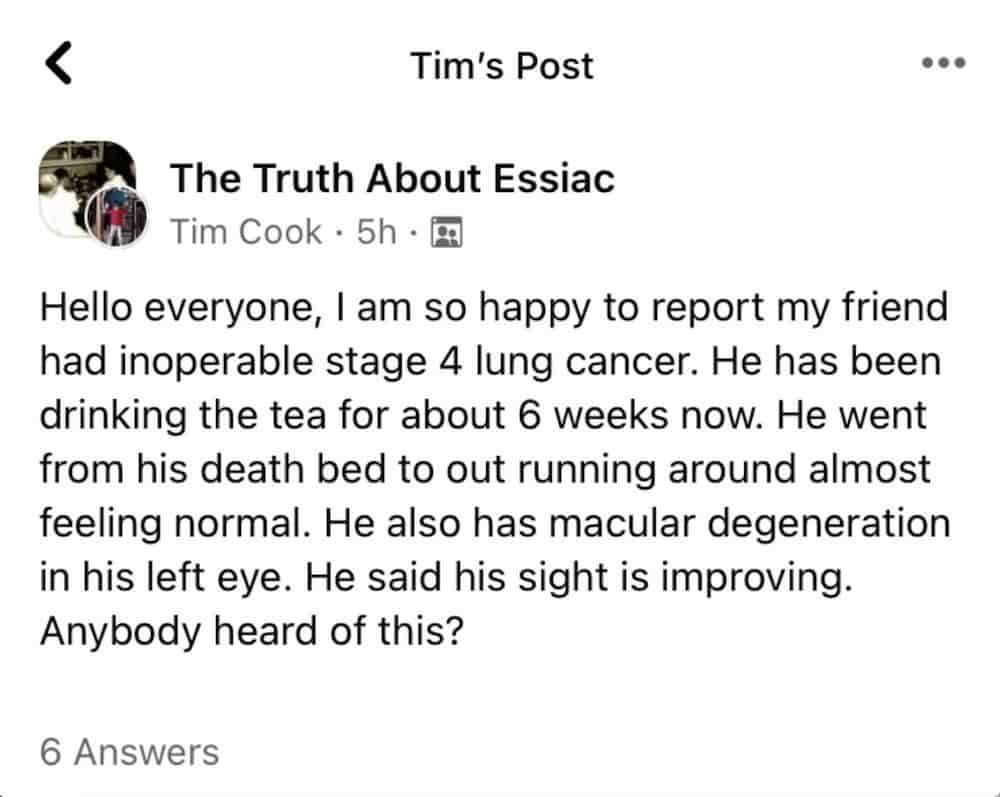 still skeptical? we get it. that's why we offer a money back results guarantee so that you can join our list of success stories and tales of recovery taking absolutely no risk.
"Can the tea help me?"
If you or a loved one has been just diagnosed and are scared, reading some testimonials goes a long way. That's why we are sharing these success stories with you. Click here to view them. Knowing others have gone through what you have gone through and come out the other side is a huge boost. Seeing how others have done with this product will provide hope, comfort and confidence as you embark on your own Essiac Tea journey. With our Results Guarantee, you have nothing to lose.
"Do I need to take other things?"
While we don't ask that you take other supplements, medications or treatments to be able to utilize the Guarantee, you are permitted to if you choose. Do your research and do whatever you are most comfortable with. If you do choose to add chemo or radiation, keep in mind that the serving of Essiac should go up, because the chemo and radiation can reduce the effectiveness of the Essiac. In that case you want to take 6 oz. at a time, not the usual 3 oz. But the opposite isn't true - Essiac does not interfere with the results of chemo or radiation.
Wondering how long it takes to work?
Rene Caisse's research says it takes 4 1/2 to 6 months for this tea to work. That jives with what we notice with our customers too. However, many people do report results and start to feel better much sooner. Always hang in there until the 6 month mark, though, before you judge the product's effectiveness. We really want to instill a sense of confidence and direction in you, because confidence and direction help reduce our body's stress response, and that is the absolute best environment for healing. We want your body firing on all cylinders. That's what works.
the bottom line
Give this product a chance. I wish you could sit in my shoes, seeing the hundreds of emails pouring in each day with people ecstatic that they got their life back. Then you would see that this tea really does what we say it does. We didn't invent it - we are just the shepphards of it. It's time to get excited about being our next success story!
order our most popular size of essiac tea today
Our Essiac takes just 10 minutes to make once every two weeks. It costs less than $1 per day to use.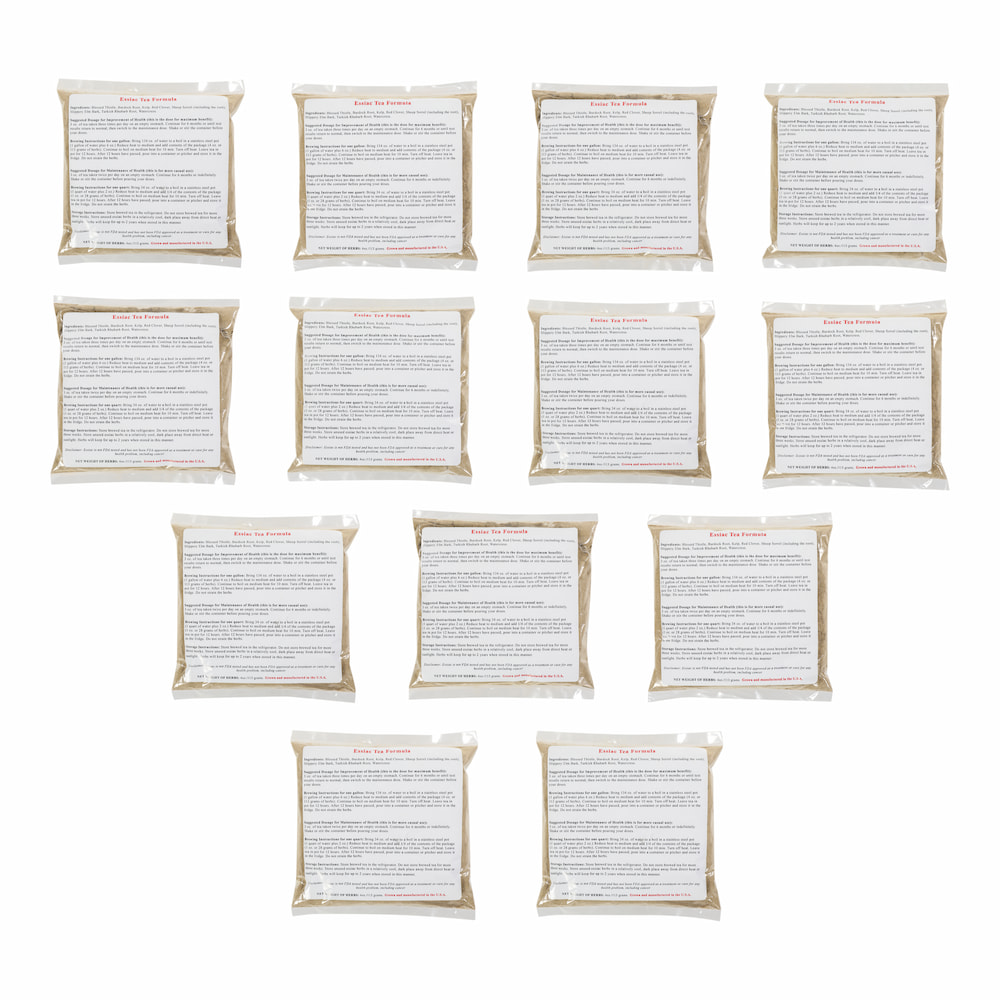 Click here to order our most popular supply of essiac tea for $179.97! It will last six months at the Aggressive/Improvement of Health dose and costs less than $1 per day to use.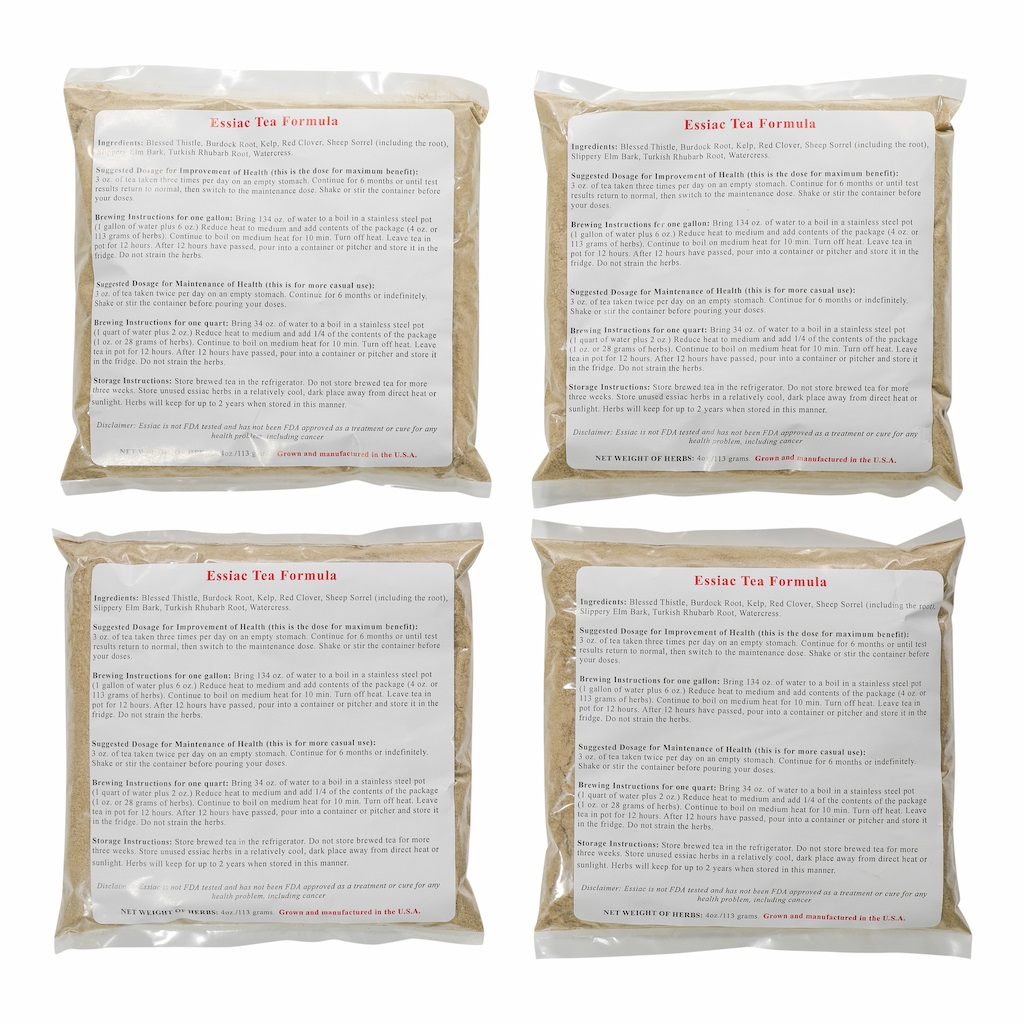 If you'd rather start small, you can order 1 lb. of Essiac in four 4-oz. packets for $68.97 by clicking here. This order lasts two months at the Aggressive/Improvement of Health dose, or three months at the Maintenance dose. If you're not sure which dosage you need, click here to learn.
---
Disclaimer: Essiac is not FDA tested and has not been FDA approved as a treatment or cure for any health problem. We do not represent it as such on this site. You must determine whether Essiac is a product you should pursue. We have provided accounts and descriptions that represent the opinions of a variety of experts as well as actual users of Essiac. We believe that our formula is the best that money can buy. However, we do not endorse anything on this site as medical fact.