essiac books and other health books we recommend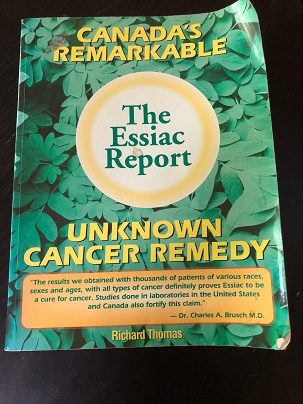 This book is the gold standard of essiac facts.
If you're looking for essiac books that will be a great resource, you're in luck! Since there is so much misinformation out there in regards to essiac tea, it's important to know which books contain the truth. By reading a book about essiac that is based in fact, you will be sure to feel confident in your essiac tea buying decisions.
the essiac report
The Essiac Report
by Richard Thomas is the first book ever written on essiac. It has extensive coverage that is backed up with photos and documents. This is the basis for credible information on essiac. There is so much misinformation on essiac out there! This book cuts through all of that and gets straight to the truth.
If you'd like to read more about this book before you purchase it, visit this page:
More About The Essiac Report.
hear more about the essiac report in this video
outsmart your pet's cancer
This book is coming soon! It features our brand of essiac tea in the testimonials and recommendations.
change your weighs
Change Your Weighs
by Gina Paulhus is a book that will help anyone struggling with obesity. There are
many connections
demonstrated in the research regarding obesity and cancer. This book can also help you become more committed to an overall healthy lifestyle if you struggle with discipline, motivation or follow-through.
do you have other essiac books you've liked?
Please share them with us by contacting us.
SIGN UP TO RECEIVE ESSIAC NEWS AND COUPONS here

you'll also RECEIVE A FREE GUIDE TO HOW ESSIAC CAME TO BE AS WELL AS WHAT TO EXPECT WHILE using essiac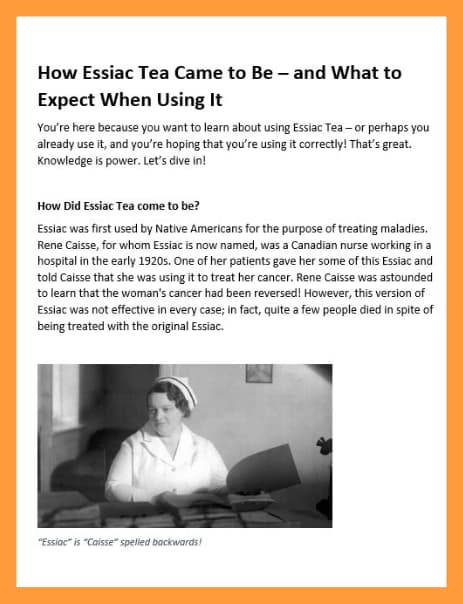 We always respect your privacy by never sharing emails. We only send about 4 issues a year, so no worries about us flooding your inbox!